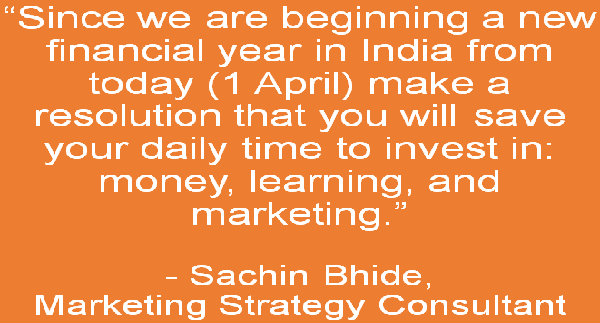 Are you investing?
Hi,
Save to invest
In initial years of my career, the biggest mistake I made was not investing money. I used to spend most part of my income and remaining used to be lying in my savings bank account. What I should have done is to save and invest from the earnings.
Investment system
Based on this experience, I have created a system for savings and in turn investment. From every payment I receive, I transfer 10% amount in a separate bank account. I don't use that bank account regularly and hence I get 90% amount for my regular use of funds. Over a period of time, I have observed that I can take care of emergency expenses from these savings. I can also invest from these savings.
Investment system for your business
This investment system, you can apply beyond monetary activities. Since we are beginning a new financial year in India from today (1 April) make a resolution that you will save your daily time to invest in: money, learning, and marketing.
---
Regards, Sachin Mohan Bhide, PhD Marketing Strategy Consultant Eha Management Consultancy
sachin@ehamanagementconsultancy.com
http://www.ehamanagementconsultancy.com/
https://plus.google.com/+SachinBhide
---
LEGAL DISCLAIMER This communication shall not attach any liability on the originator or Eha Management Consultancy. There is a possibility that I may have noted some point incorrectly. It is advisable to double check the points before you take any decision based on it. I don't represent any industry association, chamber of commerce, etc.