Digital Marketing Immersion Pyramid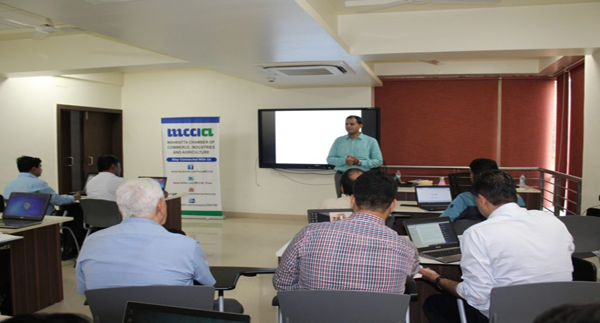 The Call
Few days back I received a call, the caller said, "I am interested in participating in the 'Digital Marketing Immersion' workshop you will be conducting." I said, "That's great, how can I assist you?" The caller replied, "I am not technically conversant in digital marketing and hence not sure if I should participate in the workshop." I answered,
"In fact, I am going to share many tools in the workshop with which you can get things done. You have an opportunity to gain the technical and marketing knowledge in this workshop."
The caller further asked, "Can you please elaborate on what will be taught at the workshop?" I answered, "Many of the businesses are still not aware of the nature of people who visit their website. There is a tool available for such analysis – Google Analytics. Whenever we want to look for any product or a service, mainly we look for it on Internet and mainly through search engine like Google. Hence, it is inevitable for us to have appropriate content on our website which our audience is looking for. We should know the words people use to search your offerings, these words are called as – keywords. We will learn keyword research and backlinks. For business networking, the go to platform is LinkedIn. Still many don't have their profile optimized and they don't write articles on LinkedIn. Twitter is an essential social media platform which is highly used by successful business owners and journalists. In the workshop we will learn these four sessions along with the practical for each session."
Digital Marketing Immersion Pyramid
These four sessions together form Digital Marketing Immersion Pyramid.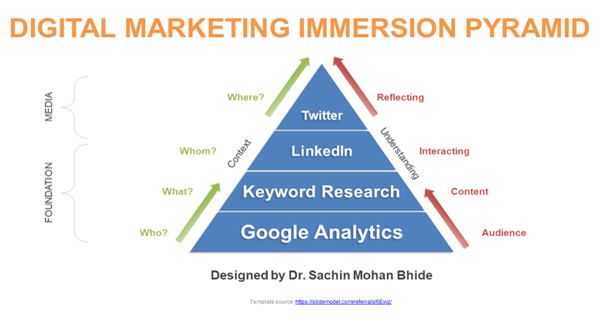 Feedback
We had amazing learning experience at the workshop. Sharing some testimonials from the workshop. Here is an audio recording of the workshop introduction which you will find interesting.