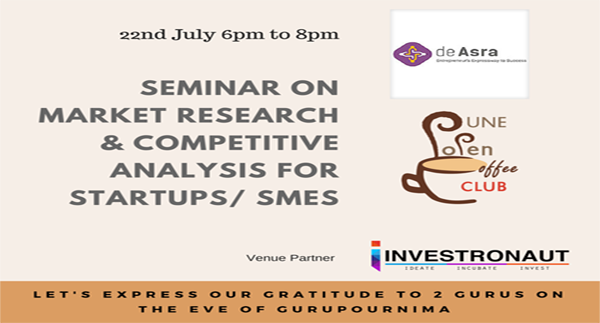 Seminar on How to Do Market Research & Competitive Analysis for Starting/Growing a Business
Dear Friends,
POCC and deAsra Foundation are pleased to present a seminar addressing how to do Market Research and Competitive Analysis before you start any business or when you are looking to grow an existing business.
The seminar is suited for anyone who is looking to start their own business or grow their existing one, and would like to understand the techniques for how to do market research and competitive analysis. The eminent speakers shall be sharing of their knowledge on the topic followed by a panel Q & A session.
To RSVP please fill out the Form here: http://goo.gl/forms/yXs6qO0cfrI8RZnM2
Time: July 22, 2016
Location:Investronaut
Street: Vishwakarma Institutes, Vimannagar Campus, Next to Rosary School
City/Town: Pune
Website or Map:http://bit.ly/2a4VWKu
Event Type:seminar
Organized By: DeAsra and POCC
Gurupournima is a beautiful concept of acknowledging the 'Guru/Teacher/Mentor' in our lives and to express gratitude to them. On the eve of this occasion, deAsra Foundation and POCC (Pune Open Coffee Club) would be conducting a seminar on 22nd July 2016.
Objective of deAsra in conducting the event: to reach across to as many entrepreneurs as possible and extend the services offered for new and current businesses.
Objective of POCC in conducting the event : to facilitate knowledge updation for its database of entrepreneurs and networking.
A successful business enterprise is a combination of many aspects. Amongst the top reasons for successful businesses has been skills, core competence & knowledge. It is also the result of understanding the pulse of the market and being aware of the market conditions.
Many a times, it is precisely this lack of awareness that leads to the difference between success / mediocre success or failure. To gain that competitive advantage it is essential to have a in-depth knowledge of the industry and the competition in the immediate sphere.
Speakers information
Speakers information
Mr Sachin Bhide is a Marketing Strategy Consultant & founder of Eha Management Consultancy. He has two decades of award winning work experience. He has authored the books 'Effective marketing for entrepreneurs' and 'Effective digital marketing strategy'. He teaches at leading educational institutions. He is an award-winning speaker and has received Best Speaker & Best Table Topic Master award at Toastmaster club in California, USA. He has earned his PhD in Marketing. He has done Masters in Business Administration and Commerce.
Mr Pratap Jagdale
An Engineer by education, Mr Jagale has worked in different capacities in the fields of Mnaufacturing, Purchase, B2B Sales, Consumer markets and Real Estate Sales. He has worked extensively in the fields of Marketing Research, both Qualitative and Quantitative, to provide critical inputs for decision making.
His core strengths are Market Research, Business Strategy, Business Development, Competitive Analysis.
Agenda:
Welcome
Concept and purpose of the seminar
Importance of Guru or mentor in an entrepreneur's life.
POCC introduction
Mr Sachin Bhide:
Topic: market research and competitive analysis – overall perspective of practical application of these 2 terms
Mr Pratap Jagdale
Topic: focussing on MSME sector and how market research and competitive analysis is relevant and essential
Panel Q&A: Audience Interaction with speakers
deAsra introduction:
What we do
How we help
Offerings
MentorshipChai Pe CharchaNetworking (deAsra, speakers, POCC, audience) over snacks/tea
Registrations for appointments with deAsra for counselling
About the Organizers:
deAsra Foundation, founded by Dr Anand Deshpande – Chairman and Managing Director of Persistent Systems is a setup with a vision to enable 25000 entrepreneurs by 2020. To achieve this goal, deAsra Foundation has a systematic approach by way of extensive research conducted on more than 100 businesses. Candidates are hand-held and assisted right from Project report, funding assistance, legal & accounting assistance to analyzing current businesses and restructuring for greater growth prospects. The core of deAsra Foundation 's strength is its pool of Mentors and Udyog Mitra's who are rich in knowledge and experience to impart to fledgling and current businesses to scale to greater heights.
POCC is a Startup-centered community of entrepreneurs. It is a volunteer driven community for entrepreneurs, start-ups and people interested in start-ups to engage and connect with the ecosystem and discuss various issues about the their ventures and business in general. The community is 20K+ strong with entrepreneurs, start-ups working different domains under one platform.