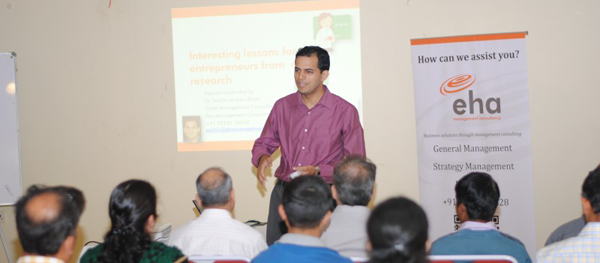 Marketing planning for year 2015
Dear entrepreneur,
If you don't plan your marketing, your market will not respond positively to you!
Today I had a chat from my client. It went on something like this:
Client: I am waiting for you blog on "marketing planning for next year.
Me: I am planning a session on marketing challenges in 2015. Do you think it's a good idea?
Client: I think as the New Year is going to start everybody want to start New Year with some planning. As you always say marketing is long term. But companies want to achieve few things in short time.
Me: Let me think over and get back
Client: So how to build a time bounded full year marketing plan?
Me: Wonderful input! I will get back to you on this. Thank you for recommending topic!
And here I am answering my client and hopefully your question.
I will look forward to your feedback.
Regards,
Dr. Sachin Mohan Bhide
Marketing Consultant
Eha Management Consultancy
sachin@ehamanagementconsultancy.com
http://www.ehamanagementconsultancy.com/
https://plus.google.com/+SachinBhide
LEGAL DISCLAIMER
This communication shall not attach any liability on the originator or Eha Management Consultancy. There is a possibility that I may have noted some point incorrectly. It is advisable to double check the points before you take any decision based on it. Also note that I don't represent any industry association, chamber of commerce, etc.