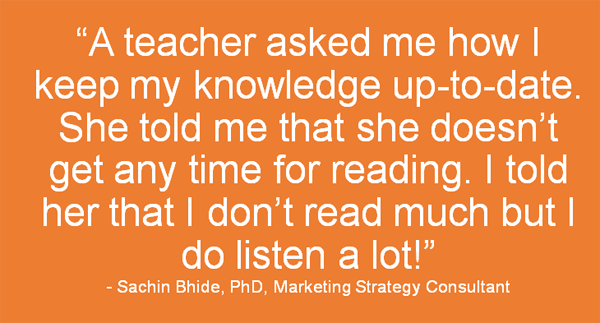 Learning source-Podcasts
Hi,
Is continuous learning possible?
A teacher asked me how I keep my knowledge up-to-date. She told me that she doesn't get any time for reading. I told her that I don't read much but I do listen a lot! There is something called as a Podcast. I think the name comes from combination of two words –iPod and Broadcast. These are nothing but audio file available for free download on almost any topic under the sun.
How?
I download these audio files on topics of my interests in my mobile phone. There is no special app requirement to play these audio files. I listen to these audios when I am travelling, having some free time when I go for meetings, etc.
What you can do?
To get started, I will suggest you to go to sites like http://www.learnoutloud.com/Podcast-DirectoryPodcast-Directory for podcasts and https://librivox.org for free audio books (not pirated). You can also search on Google for topics of your interest + podcast.
---
Regards, Sachin Mohan Bhide, PhD Marketing Strategy Consultant Eha Management Consultancy sachin@ehamanagementconsultancy.com
http://www.ehamanagementconsultancy.com/
https://plus.google.com/+SachinBhide
---
LEGAL DISCLAIMER This communication shall not attach any liability on the originator or Eha Management Consultancy. There is a possibility that I may have noted some point incorrectly. It is advisable to double check the points before you take any decision based on it. I don't represent any industry association, chamber of commerce, etc.